Reprinted from CatFancy® January 2001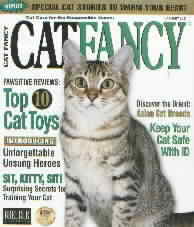 5. GLOW 'N THE DARK CURLY CAT TOY
Sally, a 14-year old Abyssinian-mix, is active, friendly and curious by nature. So it's no surprise she literally pounced on the Glo 'N The Dark Curly Cat Toy from Vee Enterprises.
This toy features an 18-inch clear wand from which springy nylon fibers dangle and dance to yourcat's delight. And as its name implies, the tips of the fibers glow in the dark afterbeing held up to a strong light source. The idea is to stimulate how a cat would hunt in the wild, much of which takes place in low light, at dusk or dawn.
That philosophy certainly seemed to appeal to Sally."She was very curious at first. She loves most toys that are interactive with me," says owner ChrisMuzyka of Laguna Hills, Calif., a sales representative for CATS USA and Kittens USA.
"As long as I teased her with it, she continued to play. I brought it out several times over the weekend and she was still interested."
For safety, the toy should be played with in low light, not total darkness, recommends its manufacturer (Vee).